When the tornado warnings roll across the screen, does everyone in your family know where to take shelter? Do you have a safe place to provide your family near absolute protection?
Underground Shelters offer a number of innovative life saving features only found on the Granger ISS underground shelter. When it comes to providing safety, peace of mind and near absolute tornado protection for your family, look to a proven industrial leader like Granger Plastics.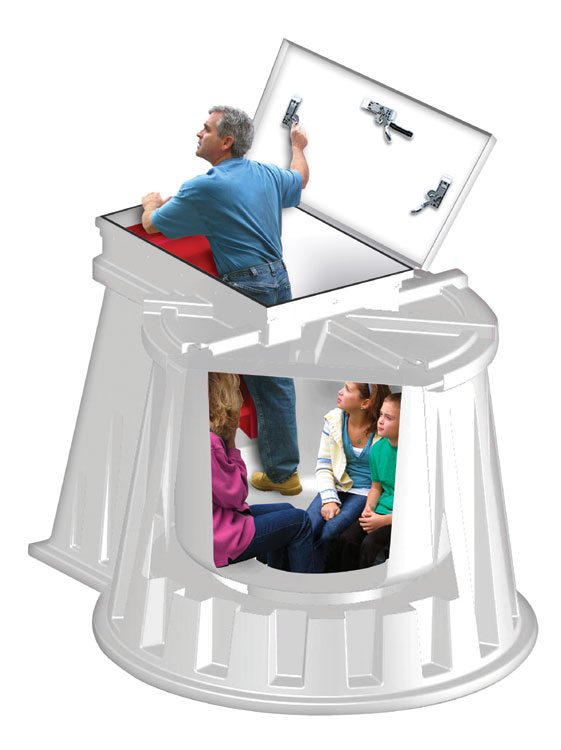 Scroll over any of the features listed below to view the corresponding pop up image.
Underground Shelter Features
The features of an underground tornado shelter can differ greatly between manufacturers. When investing in a shelter the details of how it is made can determine how long it will last and how long your investment will be able to protect your family. Researching the materials used, installation process and particular benefits of a shelter is essential to making the best decision and ensures you are purchasing a shelter that can be counted on for generations.
Durable Foam Filled Polyethylene Construction
The Granger ISS Underground Tornado Shelter is rotationally molded from Polyethylene, one of the most durable materials on the planet. The body of the ISS features double wall construction, with a ½ inch wall on the inside and a ½ inch wall on the outside. The two walls of the unit are filled with a non VOC foam adding extra strength, rigidity and condensation control. Rotationally molded polyethylene is virtually stress free and has been scientifically proven to have a half life upwards of thounsands, upon thousands of years. Ensure that your family has near absolute tornado and storm protection for generations to come with a Granger ISS Underground Shelter.
Patented Reverse Taper Design
The design and shape of the underground shelter is one of its most unique features. The units features a reverse taper design which means it is wider at the bottom than it is at the top. This reverse taper allows for the unit to be installed directly in the ground without an additional anchoring system. No messy concrete or complicated installation is needed. In fact, it's the easiest shelter on the market to install. See how easy it is to install in some of our underground shelter installation videos below!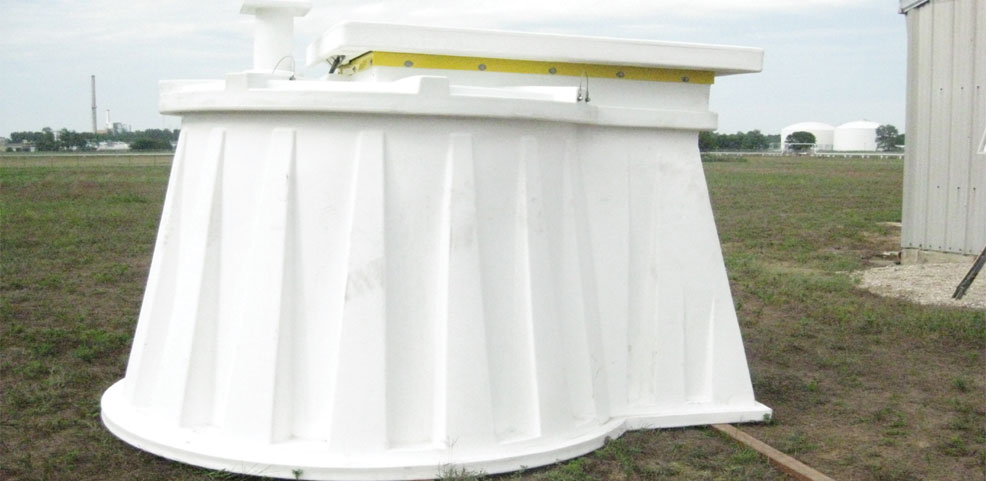 A typical installation of the Granger ISS Underground Shelter usually takes 4 hours or less. Simply dig the hole, position the unit and backfill with the dirt pulled out of the ground. The ISS can be installed outside an existing home or in new construction and even be retrofitted into certain areas. See how quick & easy it is to install in some of our tornado shelter installation videos below!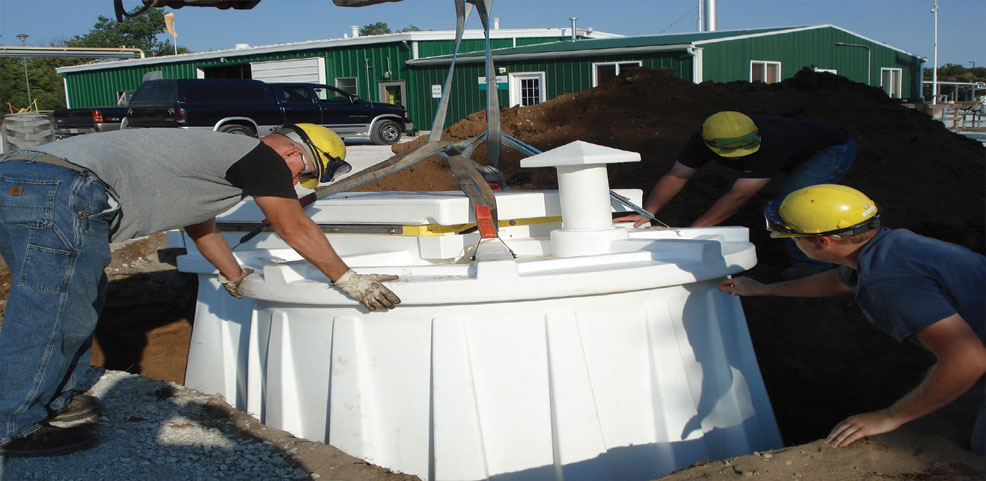 Triple Panel, FEMA 320 & 361 exceeding Door
The door is the most important part of any tornado shelter because that is what is between you and the tornado. A door should be tested for safety following the FEMA 320 or FEMA 361 guidelines that tests the durability of the door to withstand debris flying at wind speeds of 250 MPH. The door of the ISS is a unique design that includes a double wall polyethylene exterior panel, a double wall polyethylene interior panel and a sheet of polycarbonate bolted between for ultimate safety.
Dual Gas Assisted Shock System
Any door designed to protect you against a tornado is going to be heavy. Though lighter weight than other materials the polyethylene door of the ISS is no exception. To ensure the easiest entry and exit possible each Granger ISS comes with two gas assisted shocks to help open the door.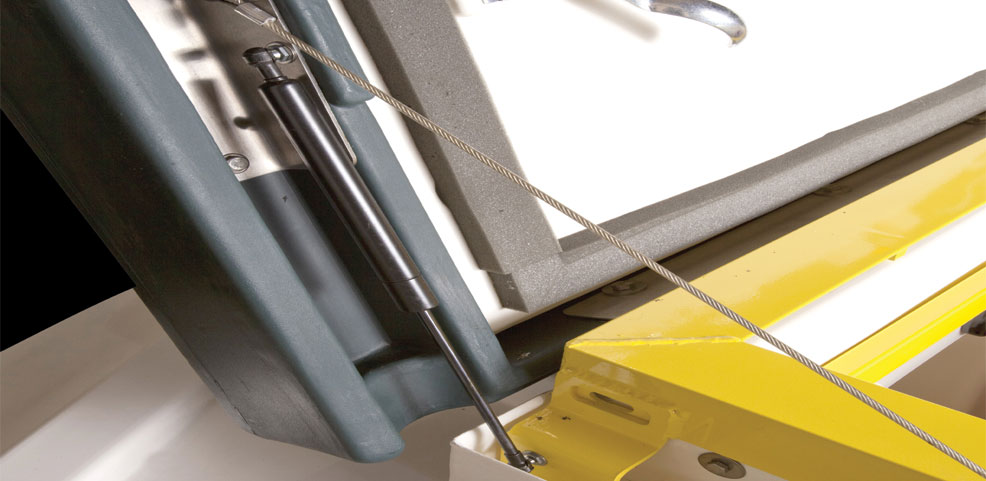 Triple Locking System
The Underground Storm Shelter features a triple locking system to ensure the highest level of safety and closure. Provide your family safety & peace of mind by providing near absolute tornado protection.
Custom Color Doors
Minimize the look of your underground storm shelter or customize the door to blend in with your home. The unique feature of a colored door and vent allow the Granger ISS to look the way you want it to. Choose green to blend in with grass and landscaping, gray granite to blend in with a concrete floor or brown granite to blend in with mulch. Many other colors available upon request including your favorite team colors!
Articulating Handrails
Each Granger ISS has articulating handrails that can be used for safer and easier entry into the unit. When not in use the handrails fold neatly to the side and do not take up valuable interior room. They can easily be raised again and locked into place upon exiting the unit for added safety.
Easy, Three Step Entrance
With only three steps down to the seating of the unit, entry into the Granger ISS takes only seconds. The vertical entry is easy for most people and does not impede on the interior space.
LED Lighting System
Each Granger ISS comes complete with LED lighting. Simply touch the light upon entry to see inside the unit when the door is closed. Each unit comes with one LED light though additional lighting can be added.
Limited Lifetime Warranty
The Granger ISS is warrantied through the lifetime of the original owner for cracking, leaking, rotting, rusting or any type of deterioration of the body of the unit. This warranty also covers any other material or manufacturers defects.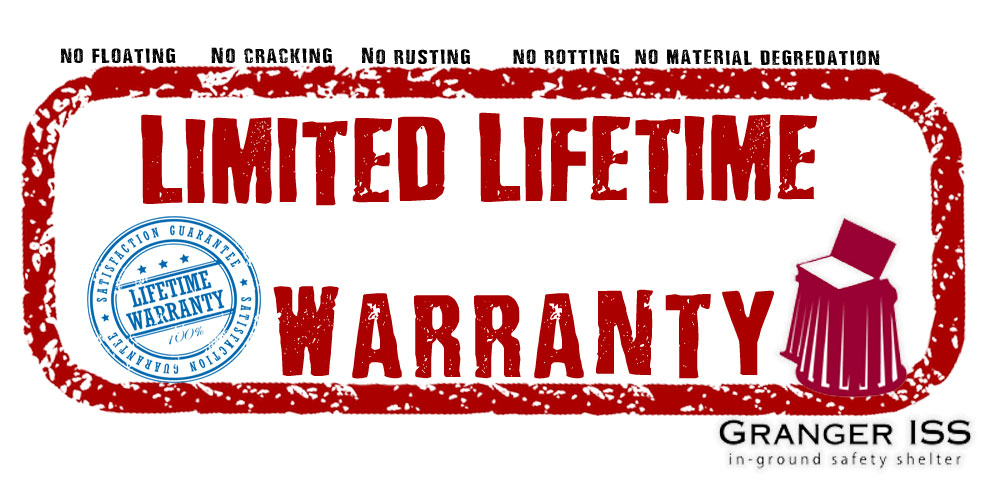 Separate Door Warranty
If a tornado shelter door is damaged in a tornado, many experts warn the shelter may no longer be safe. The door of the Granger ISS is replaceable if damaged which is a unique feature on its own. However, Granger Plastics Company offers a separate warranty on the door of its unit to its customers. If the door of your Granger ISS is damaged in a verifiable tornado Granger Plastics Company will make sure it is replaced at no additional cost to the homeowner.
Guaranteed Not To Float
The Granger ISS is guaranteed not to float! Granger Plastics works with a variety of qualified installers for self-installation or also offers turnkey pricing including full service installation. Any shelter installed by an approved installer is guaranteed not to float!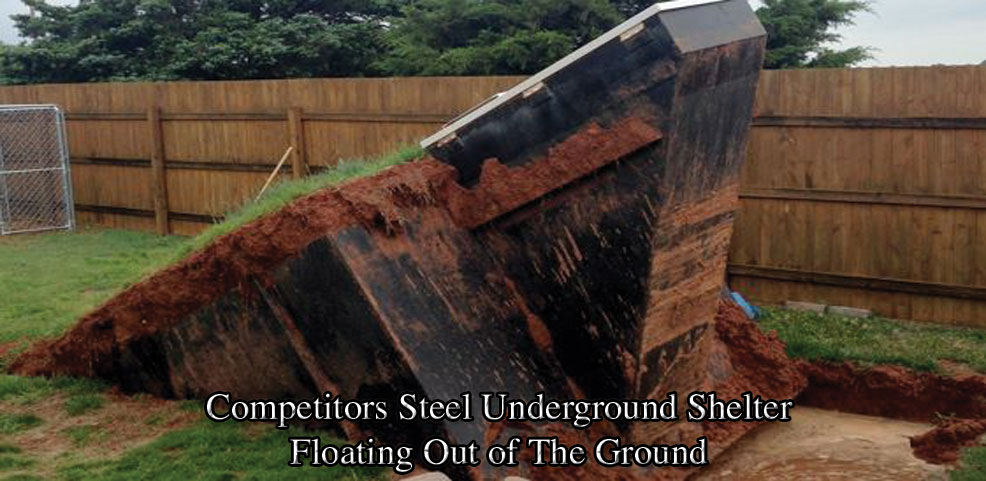 Ready to contact an Underground Tornado Shelter Dealer?
Underground Shelter Videos
Watch the video above as Alli Cravens of Granger Plastics Company explains some of the key differences and innovations between the Granger ISS Underground Shelter and other shelters on nationally televised, The Weather Channel!
HouseSmarts TV, a nationally televised home improvement and lifestyle television series, hosted by Lou Manfredini aka "Mr. Fix It". In this episode segment, hear a first hand testimonial from a Granger ISS underground Shelter customer, while learning more about the storm shelter.
Easiest Underground Shelter installation in the industry! Watch in the video above as the Granger ISS Underground Shelter is completely installed in under 4 hours! Featuring an innovative design that does not require an anchoring system for installation, the Granger ISS is by far the easiest underground shelter installation to provide near absolute tornado and storm protection for your family.
Not have time to watch the complete installation video? No worries, watch a time lapse video of another underground tornado shelter installation, start to finish, complete in under 3 hours! Watch in the video above to get a general idea of how easy the Granger ISS Underground Shelter is to install!
Watch the FEMA 320 & FEMA 361 shelter door testing video (abbreviated version) above to see the underground shelter door go thru (2) sets of FEMA tests simulating flying debris from an EF5 tornado. The same door was used for both tests and found to exceed the standards as set by FEMA. Testing completed at Texas Tech University.
Ready to contact an Underground Tornado Shelter Dealer?
For more information on the Granger ISS Underground Storm Shelter: Click Below
Ready to contact an Underground Tornado Shelter Dealer?